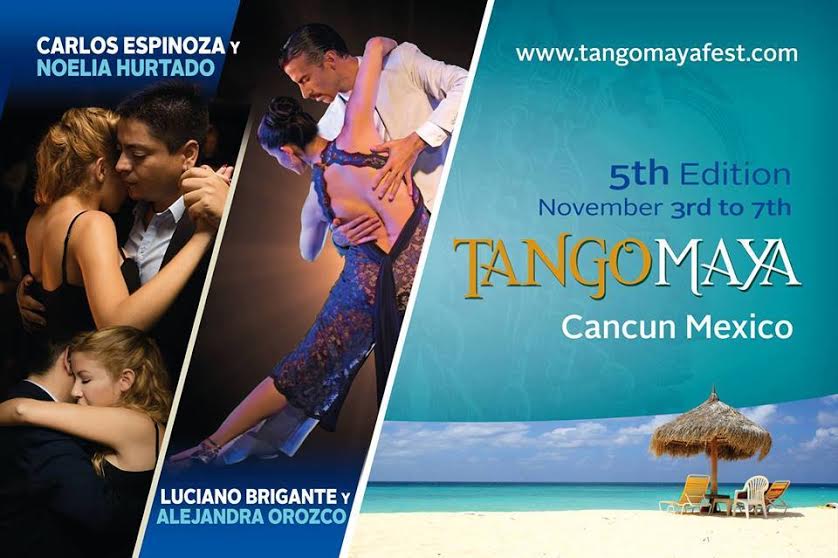 Visit www.tangomayafest.com
Click "tango maya ambassadors payments"
Click "Elizabeth Sadowska Rhythm and motion"
Enter password  Elizabethtango and follow the instructions.
All packages include a 4 night at an all inclusive hotel, full pass to Tango Maya Fest, and round trip airport-hotel transfer.
Organized by Luciano Brigante and Alejandra Orozco
GREAT VENUE and even better prices than last year! All the activities will be held at the lovely and luxurious Grand Park Royal Cancun! Yes! QUALITY GUARANTEE, 100% gourmet experience, adult oriented, 311 luxury guest rooms and suites, stunning facilities, ocean views, and plenty of beach fronts. The Grand Park Royal Cancún Caribe has been thoroughly renovated and re-imagined. There is still simply no other value like it in the Cancun vacation market. We have been there and everyone loves it!
The 2016 fifth edition of Tango Maya Presents:
8-hour Intensive workshop with Carlitos Espinoza & Noelia Hurtado (Chile-Arg)
8-hour Intensive workshop with Luciano & Alejandra (Arg-Mex)
4-hour Technique lesson with Luciano Brigante (Arg)
5 Milongas with open bar
3 Milongas on the beach
8 Lessons for beginners
Salsa classes
2-hour Lindy Hop and Balboa for tangueros with Shesha & Nikki Marvin (USA)
More than 25-hours of music with the best DJ Hernan Prieto (Arg)